2013 was a pretty good year in music I have to say. A ton of new bands and artists popped up out of nowhere with really exciting albums (Autre Ne Veut, A$AP Ferg, Speedy Ortiz) and artists that have been around for a while produced some of their best work to date (I'm looking at you Vampire Weekend, Kanye West, and The National). However for one individual, 2013 was the year of a massive musical rebirth. That person is none other than the one and only, R. Kelly. And I was lucky enough to witness a step in this comeback, live and in person.
Putting his past "controversies" (to put it lightly) aside, R. Kelly has had one of the longest and most interesting careers of any musician. 12 studio albums, three Grammy awards, and the strange rap-opera that is "Trapped in the Closet", he's a man that keeps busy. Over the past couple of years though, Kells had stayed pretty quiet. He suffered a health scare that required emergency throat surgery in 2011 in which many were left wondering if the R&B icon would ever sing again. But as R. Kelly himself would tell you, he's a "fighter" and there was no way he'd let something like this end his career. Rather, just like a superhero reemerging from the rubble, he returned revitalized and stronger than ever before.
The first hint I got that R. Kelly was going to have a uniquely exciting year was when the summer festival lineups were announced. These huge festival lineups are always an indicator of which artists are on the rise at the time.  Not only was he on the Bonnaroo lineup (something we'll talk about a bit more) but he also was set to headline Chicago's Pitchfork Music Festival. This really confused the hell out of me at the time. How could this man, best known for something as weird as Trapped in the Closet, headline the same festival as Bjork and Belle and Sebastian? Was R. Kelly becoming a hipster icon? I had so many questions!!!! There was only one way that they were going to be answered: I had to see this man perform live. And luckily for me, my ticket to Bonnaroo would give me that possibility.
It was a hot, humid night in Tennessee as per usual. My good friend and I had just stood in line for approximately four hours just to guarantee us a sick spot to see the Pied Piper of R&B perform. The crowd around us seemed to be there for the same reason as we were: half as a joke, half out of pure curiosity. All the majority of us had to base our expectations on was the Aziz Ansari joke about the time he went to an R. Kelly concert. So yeah, once the lights went down and the show was about to start, we were all very intrigued to see what this man would do.
As Mr. Kelly's band walked onto stage, all of us noticed this strange crane being raised behind the stage. It slowly was brought to the point where it was at least 50 feet above the stage. With it being extremely dark and all, we had no clue just what would come of this. Sooner than later, the band breaks into their rendition of the party anthem that is "Ignition (Remix)" and out pops R. Kelly, in the basket of the crane, singing the song 50 feet in the air. This was the point that all of us in the crowd knew, this concert was going to be awesome and like nothing we've ever seen.
Kells played for over an hour and a half, running through a collection of his best known hits. And even when R. Kelly wasn't singing, he was still "singing". What I mean is that whenever he would talk to crowd, he wouldn't just talk like you or I talk, he would turn his monologue into a song (que Aziz Ansari stand up routine). It was unbelievable.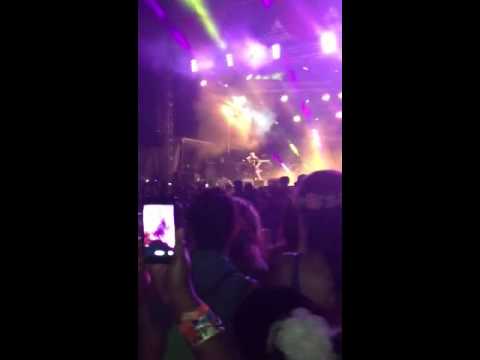 R. Kelly capped off the set with his soulful classic "I Believe I Can Fly", complete with a gospel choir and hundreds of dove shaped balloons being released into the night sky during the final chorus. Once the show was over, everyone in crowd kind of just stood there in complete silence. Most of us went to see him as a joke, I'll freely admit it. But something happened during the show. Something spiritual. Something….magical. And everyone truly learned, eccentricities aside, that this man could sing and perform like very few musicians.
Since that faithful night in Tennessee where R. Kelly and I crossed paths, he's continued carrying on with his comeback. In December he dropped his most recent album, Black Panties, which features everyone from Kelly Rowland to Migos to 2 Chainz. While the content of the album may not be for everyone (just watch the music video for the song "Cookie" to get my drift) it's certainly a testament to R. Kelly's longevity as an artist. For someone who's been around for more than 25 years, it's crazy that he is still able to release music that sounds like no other musician out there.
Where he goes from here, no one knows. All we can hope is that R. Kelly keeps entertaining us and amusing us just as he did all throughout 2013.